World Cup qualifiers draw live today!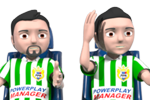 Ladies and gentlemen,
today you will be able to witness the first draw of the PPM football World Cup qualifiers. The draw will be conducted on our Facebook page at 16.00 CET. You are all invited to watch this historic moment.
There are exactly 50 national teams here on PPM and they will all take part in the global qualification that will be divided into 8 groups. There will be 6 groups with 6 teams and 2 groups with 7 teams. 4 teams from each group will advance to the World Cup finals.
The teams have been divided into 7 pots according to the number of football teams in the given country.
Pot 1: CZE, SVK, POL, HUN, ARG, CRO, LAT, ROU
Pot 2: ESP, BIH, SRB, BRA, GER, RUS, SWE, FRA

Pot 3: SLO, TUR, FIN, ITA, UKR, BUL, POR, ENG

Pot 4: SWI, USA, LTU, NED, CAN, AUT, BLR, GRE

Pot 5: BEL, DEN, CHN, CHI, VEN, EST, URU, NOR

Pot 6: COL, ISR, MEX, MKD, IRL, PER, MNE, SCO

Pot 7: KSA, MDA
The qualifiers begin on October 22 which is week 8 of the season. The first half will be played this season on 6 consecutive Saturdays. The second half will take place next season again from week 8 to week 13. The World Cup itself will be played in the final week of season 6.
I am also glad to present a preview of the merchandise that will be available in the PPM Fan Shop which we plan to launch soon. Most of these products will be customizable by adding your nickname or the flag of your country. The magnets will be available in more languages.
That's all, don't miss the draw and have a nice weekend!
Автор:

vlady
-
Преведувач:

vlady
Сподели на Facebook
Сподели на Twitter
Сподели на MySpace