Time to send in World Cup bids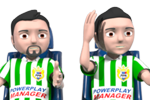 Dear friends,
time flies and we are only a few weeks away from the first historic PPM Football World Cup. On April 2, the first matches for world supremacy will be played, but we still don't know who will host this great tournament. It is your chance now to prepare a bid for your country to host this event. You have time until March 19.
All countries which have taken part in the qualifiers for the World Cup will be entitled to post their bid, but countries who have qualified for the tournament will be heavily preferred in the selection process.
Guidelines for sending bids:
Each country can send in only one bid.
The organizing committee will consist of the coordinator, and a maximum of three helpers.
Each potential organizer must first report to the national team manager. If there are more potential bids in the same country, the national team manager will choose the one to be submitted and thus also the coordinator of the organizing committee.
The selected organizing committee will then submit the official bid in English to vladimir.danis@powerplaymanager.com.
If there is no suitable bidder to host the World Cup, the PPM development team will select the country and venues.
Every bid must contain the following:
Tournament logo (180x240 pixels or larger) - the logo must contain these texts in English: "Season 6", "PPM Football World Cup".
Tournament mascot (180x240 pixels or larger)
List of stadiums to be used including the expected and guaranteed capacity of each arena during the tournament and their accessories. The list should include 8 stadiums plus 2 reserves in case some of the stadiums are not completed in time or demolished.
All members of the committee must be properly introduced (name, age, achievements) in order to establish their credibility.
Extras - anything special that the organizing committee can provide during the tournament. For example website, competitions for the managers with prizes in credits, prediction pools, providing credits for the owner of the top goal scorer or even a real hardware trophy at the expenses of the committee. These are just examples, but don't be afraid to use your fantasy.
Criteria for choosing the host country:
The overall quality of the official bid, including logo and mascot.
The size and quality of the stadiums.
The credibility and reputation of the members of the organizing committee.
Number of football teams from the country.
PRO pack percentage in the country.
We are looking forward to your bids!
Автор:

vlady
-
Преведувач:

vlady
Сподели на Facebook
Сподели на Twitter
Сподели на MySpace