International cups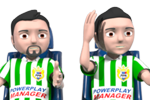 Hi friends,

the time has come to tell you more about the Champions' League and Cup Winners' Cup. For a long time the start of these two competition next season was in doubt. But now, I can report that both will be starting next season. Both competitions will be divided into three divisions: Europe, South America and Rest of the World.
European version of both competitions will have 96 participants. 32 of them will be seeded directly into the group stage and the other 64 teams will play one round of qualification to fill the other 32 spots. In South America and the Rest of the World the competitions will have 32 participants each with no qualification.
The number of participants per country (or league) will be based on the number of football teams in that country (or league) as of August 27, 2010. In Europe, 32 countries (or leagues) with the most football teams on that date, will have their champion and cup winner seeded directly into the group stage. Champions and Cup Winners from the other 7 countries will play the qualification. Runners-up will all play qualification and third place teams will qualify only if they are from the top 18 countries according to the number of football teams. I will not name every country here due to lack of space.
In South America, each county will have 4 participants in both competition. In Rest of the world Canada, USA, Africa and Asia will have 4 participants, Egypt will have 1 and Oceania and the other countries will have 3 each.
More details about the international cups will soon be published in the guide.
Finally, I would like to say that we have disqualified substitutes from the Team of the Day selection for the remainder of this season due to a bug that they caused. For the next season we are thinking of an alternative solution for their inclusion.
Have a nice day!
Автор:

vlady

-
Преведувач:

vlady

Сподели на Facebook
Сподели на Twitter
Сподели на MySpace