Save on PRO packs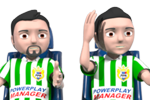 Hello friends,
The combined PRO packs mentioned previously have been implemented. You can find them by going to the PRO zone and clicking the "Get a discount on PRO pack!" link. It will take you to this page:
The discount applies to PRO packs for at least 3 months. Activating PRO in both sports, will give you a 5% discount. The discount is not applied if you activate the PRO packs separately.
We have also implemented the Team history page. You can find the link in the team profile. The automatic friendly match scheduler is in the works right now and will be released in the near future. I know many of you are looking forward to this PRO feature.
We are also planning to launch a Prediction pool for the FIFA World Cup where you will be able to win some credits and bragging rights. As you can see, the section which used to be called "Friends" in hockey has been renamed to "Favorite teams". This is a community feature for you to easily follow the results of your favorite teams. Just join the fan club and follow the team on this page. We plan to add a page where you will be able to see all the members of your own fan club.
Finally a word of thanks to manager
leopard2
, who has improved the Egyptian name database.
Have a nice day!
Автор:

vlady
-
Преведувач:

vlady
Сподели на Facebook
Сподели на Twitter
Share on Google+
Сподели на MySpace