New season and a minor engine update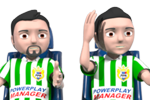 Hi friends,
yet another season is coming to an end. Everyone is already getting ready for the new one. New sponsors, new hopes for the future and new challenges. This is a special season because we have the World Cup which only happens once every 4 seasons. Go check how your country is doing. All matches are available live for free.
We will release a minor engine update at the start of next season. The change will only apply to the inactive teams. The current system reduces the overall team strength of an inactive team, but doesn't reduce the strength of individual players. As of next season this will change. The player attributes will be weakened and the overall team strength will be calculated from these lowered attributes. This should slightly reduce the chances of an inactive team defeating a team with a manager.
We would also like to announce the list of countries where league regrouping will take place. League regrouping is a mechanism used to eliminate inactive teams from the bottom two tiers in the selected countries in order to increase competitiveness. This season we will regroup teams in these countries:
Algeria, Argentina, Azerbaijan, Belarus, Bosnia and Herzegovina, Brazil, Bulgaria, Canada, Chile, China, Colombia, Croatia, Czech Republic, Denmark, Egypt, France, Greece, India, Iran, Israel, Italy, Mexico, Moldova, Morocco, Netherlands, Peru, Portugal, Romania, Saudi Arabia, Slovakia, Slovenia, Spain, Sweden, Turkey, Venezuela, Africa, Asia, Europe, South America
Good luck in the new season!
Автор:

vlady
-
Преведувач:

vlady
Сподели на Facebook
Сподели на Twitter
Share on Google+
Сподели на MySpace