Season 25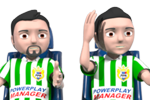 Hi folks,
there are just a few days left in this season. The next few days will be vitally important because you will be choosing your sponsors for the upcoming season. If you are confident that your team will have a good season, you will probably consider choosing an offer with performance bonuses. If you are not sure, you might be better off going for a fixed income offer. The choice is yours.
As ever, there will be league regrouping in selected countries to remove inactive teams from the bottom two league levels. League regrouping will take place in the following countries/continents:
Asia, Azerbaijan, Brazil, Chile, Colombia, Egypt, Hungary, Iran, Israel, Mexico, North America, Peru, Poland, Portugal, Saudi Arabia, Slovakia, Slovenia, Turkey, United States, Uruguay, Venezuela
If you sign a sponsorship contract with bonuses and you happen to be moved to a different league during league regrouping, please don't be alarmed. You will have the option to renegotiate your contract during the first 2 days of the new season so that you can make the right choice. Check your new opponents before you make a decision.
Good luck in the new season!
P.S.: Don't miss the action at the European and Intercontinental Cups to find out who the new champions are going to be.
Автор:

vlady
-
Преведувач:

vlady
Сподели на Facebook
Сподели на Twitter
Сподели на MySpace