Market agent and scout free for PRO users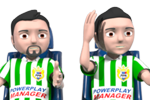 Dear managers,
A couple of months ago we gave you a promise that we would move several credit features into the PRO pack in order to raise the standard of services we provide for our supporters. We have already given the PRO pack owners the option to watch any game live for free and also the options to search for opponents with pennants and pucks. I am glad to report that two more credit features have been enabled for free to our PRO pack users once every season in each sport.
I am talking about Market agent and Market scout. Market agent is a credit feature that helps you bid on a player while you cannot be online. It costs 10 credits, but if you have a PRO pack, you can use it for free once every season. Why not unlimited usage? Because we are aware of the fact that part of the thrill of a bidwar is knowing that you are competing with a real manager somewhere else in the world. We do not want to take this element away from the game, however, we do want to provide extra comfort for PRO pack users. Therefore we have come up with this compromise.
Market scout is a credit feature that helps you estimate the selling prices of players on the market before they are sold. It costs 1 credit because it creates a bit larger load on the server. For this reason we cannot allow unlimited usage of this feature. From now on, PRO pack users can use this feature for free once every season.
National team manager half-term vote in soccer

In soccer, the first season of national teams is drawing to a close. Next week you will have the option to decide whether you want the current national team managers to remain at the helm for the entire 2-season cycle. If you are not satisfied you can vote against the national team manager. If more than half of the votes will be against the current manager, new elections will be held in the first week of next season. In that case the candidates can sign up in the final week of this season as usual. If the current manager gets support from at least half the voters, there will be no elections and the manager will remain in his position.
Christmas discounts
Don't forget that you can take advantage of our Christmas discounts on PRO packs in hockey. If you buy a 12-month hockey+soccer PRO pack, you will save 160 credits. Activate or prolong your PRO packs here.
If you buy at least 500 credits (or have bought since October 28, 2011), you can join the FansMania.eu Supporters Cup for free and play for a chance to get your favorite NHL jersey.
That's all, have a nice day!
Автор:

vlady
-
Преведувач:

vlady
Сподели на Facebook
Сподели на Twitter
Сподели на MySpace