Discounts on pennants and team name change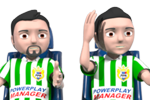 Hello friends,
Like in hockey, we have some discounts for you in football as well. You can now save 33% on club pennants and team name change. The price of both features goes down from 30 to 20 credits. You can only change your team name in team settings only once in every season, but there is no limit on the number of pennants that you can create for yourself. Just be careful when creating them and do not press the finish button until you are 100% sure that the pennant is finished. Once you finalize it, it cannot be changed. Both promotions end next Thursday, December 2 at 15:00 CET. Don't miss this opportunity!
But there is more good news today. The conditional substitutions have been implemented today. We know that it might seem confusing when you first look at it so I will try to explain here how it works. If, for example, you set a condition "Goal difference X or more" and select number -2, it means that the substitution will take place if you trail by a maximum of 2 goals, but also if the match is tied or if you are winning. If you pick number 2, you will make a substitution if you are leading by at least 2 goals. Same applies to option "Goal difference X or less", but it's the other way round. The important thing to remember is that negative numbers mean that you are trailing and positive numbers mean that you are leading.
We have been thinking how to make this as easy and understandable as possible and this is the best thing we have been able to come up with. If you have any ideas how to improve it, please leave a message below this article.
A minor improvement has been added to the team analysis where you can see suspended players of the team being analyzed. This kind of information is especially relevant when you are analyzing your next opponent.
Enjoy the discounts and the new features!
Автор:

vlady
-
Преведувач:

vlady
Сподели на Facebook
Сподели на Twitter
Сподели на MySpace