Let the collector's fever begin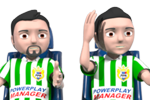 Hello friends,

today I will tell you a bit more about the club pennants, the new credit feature which we have launched several days ago. What are they good for? First of all, they represent your club just like your logo and jerseys. Second, they can be collected. Before every match the club pennant is handed over to the opponent even if the opponent's club doesn't have a pennant. This is also mentioned in the live broadcast. If this is a friendly or a tournament match, the received pennant will be added to the Collector's gallery which can be accessed from the team profile. Pennants collected in other types of matches will be stored under Other pennants.

The pennants collected in friendly or tournament matches have a higher value. Therefore having a pennant will prove beneficial to any team looking for an opponent for a friendly match. There may even be tournaments organized only for pennant owners. I would also like to say that we are going to stage some competitions connected with collecting pennants in the future.

So much for pennants, what about other news? You may have noticed that we have introduced some improvements into the live broadcast. We have added live stats, sounds and intro with the pennant exchange. The sounds like the infamous vuvuzela and also the fans can be turned on or off based on your personal preferences. We are also planning to add a sound that will announce a goal. That could be done as soon as today.
Furthermore, we have added the Replays section to PPM TV. If you want to watch an older match, you no longer need to be looking for it in the calendar.

Have a nice day!
Автор:

vlady
-
Преведувач:

vlady
Сподели на Facebook
Сподели на Twitter
Share on Google+
Сподели на MySpace