New bidding system implemented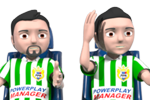 Dear friends,
As we had done in hockey, we have now implemented the new bidding system to host major national team tournaments in football as well. From now on, the voting as well as submitting bids will be entirely up to the national team general managers. We are also introducing rewards for members of the successful organizing committees.
The national team manager has the right to submit a bid in the name of his/her national team. There are 2 tournaments that will take place at the end of this season. The European Cup and the Intercontinental Cup. Only countries who have participated in the qualification for the given tournament may post the bid to host that tournament. For example Brazil may host the Intercontinental Cup, but not the European Cup. The host country will not gain a free entry to the tournament. It must qualify like any other country. Therefore it may happen that the host country will not participate in the final tournament.
If you want to submit a bid, you should first create an organizing committee. The maximum number of official members of the organizing committee is 4. Then you should contact the national team manager and ask him/her to submit your bid. The national team manager may or may not be part of the organizing committee. In case there are competing bids from the same country for the same tournament, the national team manager has the authority to pick the best one.
Every bid must contain the following:
Tournament logo (180x240 pixels) - the logo must contain texts in English which the national team manager can find when submitting or editing the bid. The bid can be edited at any time until the deadline.

Tournament mascot (180x240 pixels)
List of stadiums to be used (4 for Intercontinental Cup, 6 for European Cup, 8 for World Cup).
Text presentation in English with everything else about the bid (introduction of organizing committee, bid details, extras)
Hurry up, the deadline is day 83 of the season (8 days from now). Then the NT managers will have a week to vote for the winning bids. All NT managers can vote for hosts of both tournaments. Every member of organizing committee of all the winning bids will receive a reward of 100 credits! You can also be a member of more organizing committees as long as it is for different tournaments.
The bids can be submitted by national team managers here: European Cup bids or Intercontinental Cup bids.
In case there are no bids to host some tournament, we will have to pick the host country ourselves, but we would rather not have to do that.
Don't waste any more time and earn yourselves some credits!
Vlady
Автор:

vlady
-
Преведувач:

vlady
Сподели на Facebook
Сподели на Twitter
Share on Google+
Сподели на MySpace