Season 21 Coming Up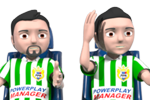 Hi friends,
we are approaching the start of another season in soccer. For us, it is a chance to make some changes in the league setup. As usual, we will be doing the league regrouping in the selected countries, but we will also merge a couple of countries into continental league because of the low number of active managers in these countries.
Ireland will be merged with Europe
Kazakhstan will be merged with Asia
The way this is going to work is that the teams in the continental leagues will remain in the leagues where they are (or where they were promoted/relegated) and the teams from the new countries will fill the available empty slots occupied by inactive teams. It may happen that you will be moved to a lower league than where you are at the moment, but your game experience should improve and if you are strong enough you shouldn't have a problem to promote back to the level where you used to be. We believe that all the managers involved in these changes will benefit from this move in the long run.
These changes will not affect the national teams. So you don't have to worry that these national teams will be cancelled as well.
Ther league regrouping which will remove inactive teams from the bottom two league levels will be done in the following countries:
Africa, Algeria, Austria, Belarus, Belgium, Bosnia and Herzegovina, Czech Republic, Denmark, England, Finland, Greece, Iran, Israel, Italy, Mexico, Morocco, Netherlands, North America, Russia, Saudi Arabia, Slovakia, Slovenia, South America, Spain, Switzerland, Ukraine, USA
Remember, if you happen to be moved to a different league during league regrouping and you have chosen a sponsor offer with performance bonuses, there is no need to worry. You will get a chance to switch to a regular sponsor offer or change your target position for bonuses during the first 2 days of the new season.
Good luck with your sponsor offers!
Автор:

vlady
-
Преведувач:

vlady
Сподели на Facebook
Сподели на Twitter
Share on Google+
Сподели на MySpace