Elections for youth national teams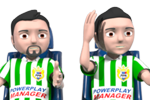 Dear friends,
as of today you can post your candidacies in the elections for youth national teams in soccer. In order to be able to to do that, you must have at least 51 points of manager experience. The under-20 and under-17 national teams will start to write their history at the beginning of next season. One manager can only be a candidate for 1 national team. However, due to the fact that the 2 season cycles of senior and junior teams will overlap, it will be possible to be the general manager of one senior and one junior national team at the same time. So if you are a senior national team manager, you can still post a candidacy for one of the youth teams.
I would also like to remind you that players under the age of 20 (including) will be allowed to remain in the senior national team for the next season. However, the senior NT managers will not be allowed to add any more under-age players from next season. It will be up to senior NT managers if they let the under-age players go to junior teams or if they will rather keep them.
Like I mentioned, the 2 season cycle of junior teams will be different from senior teams. The youth teams will have World Cup every odd numbered season and PPM Football Challenge Cup every even numbered season. There will be no European Cups or Intercontinental Cups for youth national teams.
There is more good news regarding the national teams in both hockey and soccer. You can now check the statistics of players of any national team. To do that, go to the profile of the national team you are interested in and then click on Statistics. In hockey we only track stats from World Championships. In soccer you can filter stats according to competition or view the total numbers.
The new hockey live broadcast has reached the final testing phase. We hope to launch it by the end of the month. PRO pack owners will be able to follow the live scores from other league games while watching their own game as well. At the beginning of the game and in between plays you will be shown team lineups on the big screen. In case there is a penalty called, the big screen will show you power play and penalty killing units involved.
Finally, some news about handball. The development is going on at a really good pace right now. Many of the pages are done and we have also adapted the system of generating new players to fit the handball specifics.
That's all, have a nice day!
Автор:

vlady
-
Преведувач:

vlady
Сподели на Facebook
Сподели на Twitter
Сподели на MySpace