Update on development of football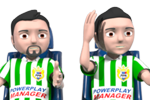 Hi folks,
I bring you the latest update on what has been done recently on football. The list is not complete and only mentions the most important features and fixes.
New features:
- option to change team name and stadium name for free (warning: team name can only be changed once)
- bid history for players
- extra time in matches
- added rebound shots to match engine
- chemistry
- experience
Fixed bugs:

- line-up selection problem in Internet Explorer
- a few bugs in the match engine
- wrong time display on the market
- public account was able to perform actions like buying and selling players
- bug which caused that more than 11 players could appear on the field
Planned features:
- option to pick players for penalty kicks
- option to pick players for corner kicks
- option to pick players for free kicks
- development of live broadcast
Announcement for users registered in the UK:

You can now select if you want to play in England, Scotland, Wales or Northern Ireland. Just go to your Team settings (the sprocket icon in the top right hand corner) and choose your country. You can change this setting while the beta lasts. Once the full version starts, you won't be able to change it any more.

That's all, enjoy the game!
Автор:

vlady
-
Преведувач:

vlady
Сподели на Facebook
Сподели на Twitter
Сподели на MySpace