New line-up and substitutions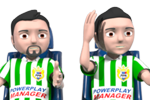 Dear friends,
It is finally here. As of today you are able to set your line-up and substitutions using the new drag & drop feature, but most importantly, you will now have more tactical possibilities regarding substitutions. The new system was developed to be more user friendly and also to give you better control over your team.
The new substitution features include:
the option to make substitutions during first 30 minutes of the match as well as before or during extra time
the option to set substitutions in case a player from a position or positions of your choice is sent off
the option to make unlimited number of changes in a single substitution event
the option to duplicate a substitution and make minor changes in such substitution
the option to swap players' positions with one movement of your mouse
the option to set any goal difference interval as a condition for a substitution
As you can see, the new substitution system will give you plenty of new options and the setting should be relatively easy and user friendly. You can, for instance, make a substitution if any of your defenders is sent off. You can react by substituting a midfielder for a defender. In the same move you can also move all your players back by 1 position if you want. When using the goal difference feature you can use negative numbers to make changes when you are trailing. Just make sure you put the smaller number on the left. For example if you set from -1 to -2, the substitution will not take place because there is no number that is higher than -1 and lower than -2. You have to set it from -2 to -1.
Since drag & drop feature cannot be used on cellphones and tablets, we decided to keep the old version of line-up and lineu-up settings for those who manage their team using these devices. The mobile version of the substitutions page will be implemented later.
Have a nice day!
Penulis:

vlady
-
Penterjemah:

vlady
Kongsi di Facebook
Kongsi di Twitter
Share on Google+
Kongsi di MySpace