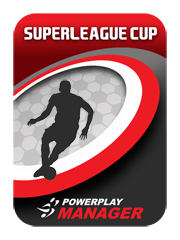 Official PPM page on Facebook

Give a Like to our Facebook page and get the latest news before everyone else.
Next match
DALLAS STARS
League match
29.11.2020 18:30:00
The League Cup champions from all over the world and all league levels play together in the SuperLeague Cup. It is a single match knock-out competition where the home field advantage does not apply. It is played every Wednesday from the first week of the season until the winner is decided. There is also a match for third place. If a team qualifies for the SuperLeague Cup as well as for Champions' League or Cup Winners' Cup, it will forfeit its place in the SuperLeague Cup in favour of the next team in the ranking.
Season: - Round:
Group 1 (Teams from pots 1 and 2)