New Year, New Soccer Season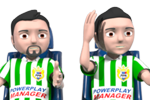 Hi folks,
as 2022 daws to a close, so does season 41 in soccer. You know what to do to prepare for the new season. Sponsor offers started coming in today so make sure you pick the best sponsor for your team.
It's also time to announce the list of countries that will have league regrouping at the end of the season to remove inactive teams from the bottom two league levels. Here is the list:
Africa, Argentina, Asia, Bulgaria, Italy, Netherlands, Romania, Slovakia
If you sign a sponsorship contract with bonuses and you happen to be moved to a different league during league regrouping, please don't be alarmed. You will have the option to renegotiate your contract during the first 2 days of the new season so that you can make the right choice. Check your new opponents before you make a decision.
We wish you all the best in the new season and in 2023!
Author:

vlady
-
Translator:

vlady
Share on Facebook
Share on Twitter
Share on MySpace