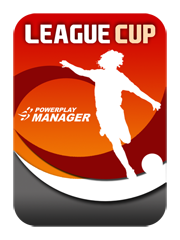 Official PPM page on Facebook

Give a Like to our Facebook page and get the latest news before everyone else.
Next match
FC Inter Mexiko
League match
29.07.2021 18:30:00
League Cup is played at the end of the season with a single match knock-out system. Every league has its own League Cup where the top 16 teams according to the final ranking are qualified. In every round the top seeded team plays the lowest seed, the second seed plays the second lowest seed and so on. The higher seed has the home field advantage. Because there are also placement matches, every team plays 4 matches. These matches are played on days 105, 107, 109 and 112 of the season. The League Cup champion qualifies for the SuperLeague Cup. The revenue from ticket sales for League Cup matches is divided between both teams.
Season: Country: League: