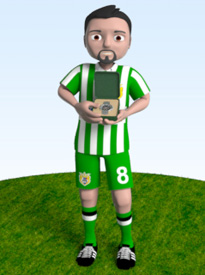 Official PPM page on Facebook

Give a Like to our Facebook page and get the latest news before everyone else.
Next match
FC Inter Mexiko
League match
24.10.2021 18:30:00
Good placings in the league statistics are a proof of the quality of the team's roster. The statistics show the best players according to the particular criteria. The best players at the end of the season will get a bonus to their popularity and their clubs will get a financial reward from the league's commissioners.
Season: Country: League:
Players
| | | | | | | | | | | | | | | | |
| --- | --- | --- | --- | --- | --- | --- | --- | --- | --- | --- | --- | --- | --- | --- | --- |
| Rnk | Name | Team | MP | Min | G | G/M | A | ST | SW | YC | RC | SO | FC | MM | TD |
| 1 | Teodor Błaszczak | Kolare FC | 5 | 450 | 12 | 2.40 | 6 | 17 | 8 | 1 | 0 | 0 | 7 | 3 | 1 |
| 2 | Attila Várkonyi | Bečovské Medved | 5 | 450 | 11 | 2.20 | 8 | 19 | 9 | 1 | 0 | 0 | 7 | 5 | 4 |
| 3 | Monik Nissan | kup kap | 5 | 450 | 11 | 2.20 | 4 | 19 | 9 | 1 | 0 | 0 | 3 | 2 | 0 |
| 4 | Vitalii Kotachev | FK Red Devils | 5 | 450 | 10 | 2.00 | 3 | 19 | 9 | 0 | 0 | 0 | 6 | 1 | 0 |
| 5 | Pelle Åkesson | FC Drunkteam | 5 | 450 | 10 | 2.00 | 1 | 18 | 7 | 1 | 0 | 0 | 1 | 3 | 1 |
| 6 | Jaime Aponte | kup kap | 5 | 450 | 9 | 1.80 | 8 | 17 | 7 | 0 | 0 | 0 | 0 | 2 | 1 |
| 7 | Cédric Dewaele | Bečovské Medved | 5 | 450 | 8 | 1.60 | 4 | 11 | 11 | 0 | 0 | 0 | 3 | 0 | 0 |
| 8 | Antonio Cubilla | FK Red Devils | 5 | 450 | 8 | 1.60 | 2 | 13 | 9 | 1 | 0 | 0 | 4 | 2 | 0 |
| 9 | José Cámara | Angels Nitra | 5 | 450 | 8 | 1.60 | 2 | 15 | 8 | 2 | 0 | 0 | 7 | 2 | 1 |
| 10 | Rastislav Kiss | FC Inter Mexiko | 5 | 450 | 8 | 1.60 | 0 | 13 | 9 | 3 | 0 | 0 | 8 | 4 | 0 |
| 11 | Cătălin Dănălache | kup kap | 5 | 450 | 7 | 1.40 | 10 | 18 | 2 | 0 | 0 | 0 | 6 | 1 | 1 |
| 12 | Jaroslav Badura | 1FC Nove Zamky | 2 | 180 | 7 | 3.50 | 1 | 9 | 2 | 0 | 0 | 0 | 2 | 1 | 0 |
| 13 | Branislav Marcina | 1FC Nove Zamky | 5 | 450 | 6 | 1.20 | 3 | 7 | 1 | 1 | 0 | 0 | 6 | 0 | 1 |
| 14 | Artem Yaremko | FC INTER Krásna | 5 | 450 | 6 | 1.20 | 2 | 10 | 6 | 0 | 0 | 0 | 8 | 1 | 0 |
| 15 | Niklas Andersson | Kolare FC | 5 | 450 | 5 | 1.00 | 7 | 14 | 7 | 0 | 0 | 0 | 4 | 2 | 0 |
| 16 | Ladislav Rašovec | Lesáci | 2 | 180 | 5 | 2.50 | 4 | 8 | 3 | 1 | 0 | 0 | 1 | 1 | 0 |
| 17 | Alfonz Fekeč | Lesáci | 5 | 450 | 5 | 1.00 | 4 | 10 | 9 | 0 | 0 | 0 | 8 | 0 | 0 |
| 18 | Radosvet Filipov | FC INTER Krásna | 2 | 180 | 5 | 2.50 | 3 | 13 | 2 | 0 | 0 | 0 | 1 | 1 | 0 |
| 19 | Martin Vaic | Lesáci | 5 | 450 | 5 | 1.00 | 2 | 12 | 5 | 0 | 0 | 0 | 5 | 1 | 0 |
| 20 | Valerio Gardin | FC Drunkteam | 5 | 450 | 4 | 0.80 | 4 | 10 | 8 | 1 | 0 | 0 | 5 | 0 | 3 |
| 21 | Daniel Barker | Bečovské Medved | 5 | 450 | 4 | 0.80 | 3 | 4 | 2 | 0 | 0 | 0 | 2 | 0 | 2 |
| 22 | Roman Nožička | FC INTER Krásna | 3 | 270 | 4 | 1.33 | 2 | 12 | 6 | 0 | 0 | 0 | 3 | 2 | 0 |
| 23 | Haldo Viitas | kup kap | 5 | 450 | 4 | 0.80 | 1 | 5 | 0 | 1 | 0 | 0 | 5 | 0 | 0 |
| 24 | Koloman Nedoroščík | Lesáci | 2 | 180 | 4 | 2.00 | 0 | 4 | 0 | 0 | 0 | 0 | 3 | 1 | 0 |
| 25 | Ragnvald Grøtan | FK Studienka | 3 | 270 | 4 | 1.33 | 0 | 8 | 2 | 0 | 0 | 0 | 4 | 2 | 1 |
| 26 | Bystrík Gier | FC Drunkteam | 5 | 450 | 4 | 0.80 | 0 | 4 | 3 | 1 | 0 | 0 | 6 | 0 | 0 |
| 27 | Balázs Csáki | Kolare FC | 5 | 450 | 3 | 0.60 | 5 | 5 | 2 | 1 | 0 | 0 | 4 | 0 | 0 |
| 28 | Shahata Baya | Bečovské Medved | 5 | 450 | 3 | 0.60 | 4 | 5 | 0 | 0 | 0 | 0 | 9 | 0 | 2 |
| 29 | Pavol Morovics | 1FC Nove Zamky | 2 | 180 | 3 | 1.50 | 2 | 5 | 5 | 1 | 0 | 0 | 1 | 1 | 0 |
| 30 | Martin Omámik | 1FC Nove Zamky | 3 | 270 | 3 | 1.00 | 2 | 7 | 5 | 0 | 0 | 0 | 1 | 2 | 0 |
| 31 | Manuel Santillan | FK Red Devils | 5 | 450 | 3 | 0.60 | 2 | 5 | 1 | 2 | 0 | 0 | 9 | 0 | 0 |
| 32 | Attila Berda | Kolare FC | 5 | 450 | 3 | 0.60 | 2 | 4 | 4 | 2 | 0 | 0 | 8 | 0 | 0 |
| 33 | Sokratis Sarris | Bečovské Medved | 5 | 450 | 3 | 0.60 | 2 | 6 | 3 | 0 | 0 | 0 | 6 | 0 | 0 |
| 34 | Oskar Letocha | FC mengvaji | 5 | 450 | 3 | 0.60 | 2 | 7 | 13 | 2 | 0 | 0 | 12 | 0 | 0 |
| 35 | Tooraj Javadzadeh | Angels Nitra | 5 | 450 | 3 | 0.60 | 2 | 14 | 6 | 0 | 0 | 0 | 4 | 0 | 0 |
| 36 | Svevo Carena | Bečovské Medved | 5 | 450 | 3 | 0.60 | 1 | 3 | 2 | 0 | 0 | 0 | 5 | 0 | 3 |
| 37 | Nicklas Thue | Kolare FC | 5 | 450 | 3 | 0.60 | 0 | 4 | 7 | 1 | 0 | 0 | 3 | 0 | 0 |
| 38 | Hubert Federl | FC mengvaji | 5 | 450 | 3 | 0.60 | 0 | 9 | 3 | 2 | 0 | 0 | 6 | 2 | 0 |
| 39 | József Korányi | FK Red Devils | 5 | 450 | 2 | 0.40 | 8 | 2 | 1 | 1 | 0 | 0 | 4 | 0 | 3 |
| 40 | Davide Romano | kup kap | 5 | 352 | 2 | 0.40 | 4 | 3 | 3 | 0 | 0 | 0 | 8 | 0 | 0 |
| 41 | Laurenţiu Caragiale | kup kap | 5 | 450 | 2 | 0.40 | 4 | 3 | 4 | 1 | 0 | 0 | 5 | 0 | 0 |
| 42 | Martin Demčák | SCC Club VT† | 5 | 450 | 2 | 0.40 | 3 | 7 | 6 | 0 | 0 | 0 | 4 | 1 | 0 |
| 43 | Dominik Čokota | FC Fernet 13905 | 4 | 360 | 2 | 0.50 | 2 | 3 | 4 | 4 | 0 | 0 | 12 | 1 | 0 |
| 44 | Jonathan Nilsson | HUE Team | 5 | 450 | 2 | 0.40 | 2 | 4 | 1 | 0 | 0 | 0 | 5 | 1 | 0 |
| 45 | Danylo Kopys | Kolare FC | 5 | 450 | 2 | 0.40 | 2 | 2 | 3 | 1 | 0 | 0 | 4 | 0 | 0 |
| 46 | Carlos Xérez | FC Drunkteam | 5 | 450 | 2 | 0.40 | 2 | 3 | 2 | 1 | 0 | 0 | 3 | 0 | 2 |
| 47 | Jacek Miazek | HUE Team | 4 | 360 | 2 | 0.50 | 1 | 3 | 3 | 1 | 0 | 0 | 3 | 0 | 0 |
| 48 | Neil Capp | FK Red Devils | 5 | 450 | 2 | 0.40 | 1 | 2 | 1 | 0 | 0 | 0 | 4 | 0 | 1 |
| 49 | Ivan Podlesnik | HUE Team | 5 | 450 | 2 | 0.40 | 1 | 2 | 1 | 0 | 0 | 0 | 2 | 2 | 0 |
| 50 | Edvard Edvardsson | Angels Nitra | 5 | 450 | 2 | 0.40 | 1 | 2 | 3 | 0 | 0 | 0 | 3 | 0 | 0 |
Goalkeepers
| | | | | | | | | | |
| --- | --- | --- | --- | --- | --- | --- | --- | --- | --- |
| Rnk | Name | Team | MP | GA | SV | Sv% | CS | Str | LStr |
| 1 | Christophe Bertholet | FC Drunkteam | 5 | 0 | 1 | 100.0 | 5 | 450 | 450 |
| 2 | Lorenzo Lobo | Angels Nitra | 5 | 0 | 1 | 100.0 | 5 | 450 | 450 |
| 3 | Eduard Genio | Bečovské Medved | 5 | 0 | 0 | 0.0 | 5 | 450 | 450 |
| 4 | Ľubomír Nezval | 1FC Nove Zamky | 5 | 0 | 0 | 0.0 | 5 | 450 | 450 |
| 5 | Adam Glasnák | FC INTER Krásna | 5 | 1 | 6 | 85.7 | 4 | 259 | 259 |
| 6 | Rafał Siudym | HUE Team | 5 | 2 | 6 | 75.0 | 4 | 5 | 441 |
| 7 | Yuliy Yarushkin | kup kap | 4 | 0 | 0 | 0.0 | 4 | 360 | 360 |
| 8 | Tomáš Cabák | Lesáci | 4 | 7 | 13 | 65.0 | 3 | 13 | 283 |
| 9 | Ragnar Björk | FK Red Devils | 5 | 3 | 4 | 57.1 | 3 | 113 | 240 |
| 10 | Radovan Havránek | FC Inter Mexiko | 3 | 5 | 12 | 70.6 | 2 | 1 | 212 |
| 11 | Gejza Hyčko | FC Fernet 13905 | 5 | 9 | 20 | 69.0 | 1 | 12 | 123 |
| 12 | Anton Híroš | SCC Club VT† | 3 | 16 | 17 | 51.5 | 1 | 22 | 107 |
| 13 | Hubert Demidziuk | FC Nižný Klátov | 5 | 15 | 16 | 51.6 | 1 | 131 | 131 |
| 14 | Ferenc Parragh | Kolare FC | 4 | 3 | 6 | 66.7 | 1 | 26 | 128 |
| 15 | András Lakatos | FK Studienka | 4 | 3 | 5 | 62.5 | 1 | 38 | 170 |
| 16 | František Pružinský | FC Inter Mexiko | 2 | 1 | 1 | 50.0 | 1 | 121 | 121 |
| 17 | Alfréd Gargulák | Fc Santa Cruz | 5 | 28 | 36 | 56.3 | 0 | 0 | 42 |
| 18 | Rudolf Bujna | Team noname 144 | 5 | 41 | 34 | 45.3 | 0 | 28 | 42 |
| 19 | Bartolomej Skladaný | Team noname 143 | 5 | 49 | 31 | 38.8 | 0 | 8 | 27 |
| 20 | Ladislav Gallik | Public account | 5 | 40 | 30 | 42.9 | 0 | 28 | 45 |