Small changes in the engine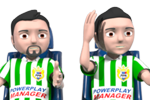 Dear friends,
after the first week of the new engine on live server, we decided to make a couple of small adjustments. The statistics from real match data have revealed to us some things that did not show on the test server. We increased the team strength indicator for midfield slightly. You will see that after today's matches. We have also decreased the save percentage of goalkeepers in order to increase the number of goals to the desired numbers. This change should make for more interesting matches.
Some time ago we have informed you that we are going to shoot an advertisement video for television. The video was shot last month and the final product has finally hit internet. This is actually the first of three videos. More will follow. We would appreciate if you shared the video with your friends and on various social networks. You can play the embedded video below. We hope you'll like it.
The link to share: http://www.youtube.com/watch?v=yjI3SLO705k&hd=1
Finally I would like to remind you that the Great Referral Campaign is still on. You still have enough time to collect 20 points and join the small group of users who are in the running for Nintendo Wii and PPM T-shirts. The chance to win is great if you can get those 20 points. Even if you don't succeed, you can earn yourself a nice number of credits. Up to 30 credits for one active referral.
Have a nice day!
Penulis:

vlady
-
Penterjemah:

vlady
Kongsi di Facebook
Kongsi di Twitter
Share on Google+
Kongsi di MySpace