Football beta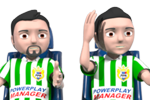 Hello friends,
This is the first ever Football (or soccer) news. If you already have your team, welcome to the football account. If not, it probably means that:
a) You don't have the right to create a team yet
b) You have the right to create a team, but you haven't done so yet
The beta version of soccer was opened to the developers and testers on Tuesday, April 6, 2010. The other team members like captains, assistants, translators etc will follow soon.
We plan to let in regular users into the game on Monday, April 12, 2010 at the latest. As was announced before, the fee to enter will be 30 credits which will be paid when creating the team.
The period when it will be possible to create a team in beta for credits will last for 2 weeks. After this period there will be a limited number of free teams up for grabs every day. The creation of team will not cost any credits but it might happen that not everyone will get inside the daily quota.
The beta version will run for a few weeks and then there will be a complete restart and everyone will start from scratch in the full version. During beta, you will be able to choose which league you would like to play in. Of course, those who are higher in the waiting list for football will be preferred. If you are too far back in the list, you might not end up where you choose.
Please bear in mind that this is only beta version and a lot of the features are still missing and a lot of other things require tune-up. Your help with reporting bugs in the forums will be much appreciated.
Enjoy the game!
Penulis:

vlady
-
Penterjemah:

vlady
Kongsi di Facebook
Kongsi di Twitter
Share on Google+
Kongsi di MySpace