Create gloves for your goalkeepers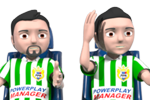 Hi friends,
we have another feature where you can show your creative talents and express the personality of your goalkeepers by creating customized gloves for them. Just like goalie masks in hockey, these gloves are displayed in the profiles of your goalkeepers who are wearing them. They are also displayed in your team profile, where people can view all the gloves that you have created. With the arrival of gloves, we have also adjusted the layout of the Team profile page.
The goalkeepers who have their own customized gloves have an icon next to their names on the Players page. You can change the goalkeepers who wear your gloves at any time. To create or manage your gloves, go to your team profile and click the link under the glove picture. Just make sure you don't finish your gloves until you are happy with them because you won't be able to change them after you finish them. This is a credit feature and costs 15 credits.
We would also like to inform you, that you can save 160 credits if you activate a combined hockey+soccer PRO pack for 12 months as part of our Christmas promotion campaign.
Last week we encountered a series of hardware failures out of our control that led to some problems. Thanks to the quick reaction of our programmers who had to work during the night hours, we have managed to deal with these failures without any permanent damage. We apologize for any inconvenience caused by these outages.
Have a nice day!
Penulis:

vlady

-
Penterjemah:

vlady

Kongsi di Facebook
Kongsi di Twitter
Share on Google+
Kongsi di MySpace