Engine updates for next season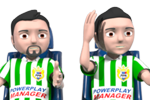 Hi friends,
The new season in football starts on Easter Monday and as has been the custom over the last few seasons, we have prepared a few tweaks and improvements for the game engine.
The most important change is the change of calculation of goalkeepers' strength. At the beginning of this season we have started to penalize more heavily the efficiency of poorly trained field players. You could see that on their ratings this season. For goalkeepers we have delayed this change by one more season.
From Monday you will see new rating calculations for goalkeepers. The goalkeepers' ratings reflect the average of their abilities to stop shots and their abilities to intercept crosses. There are many goalkeepers who don't have good secondary attributes. Their performance will not be as good as it was until now. However, as is the case with the players, a certain variety is allowed and the severity of the penalty depends on how poorly the goalkeeper is trained. Those goalkeepers who are close enough to perfect ratios will not get penalized.
This season we have also observed that extremely defensive formations are a little bit too effective. Not as effective as standard formations, but effective enough to capture a few wins and especially goal-less draws. We have made some tweaks to reduce their effectiveness somewhat. We have also added some more importance to having a good attacking and midfield formation. A team that will dominate midfield will get a few more chances than now. Please note that these tweaks are only noticeable over a larger sample of matches.
I would also like to say that we are working on the new layout and functionality of substitutions. The release date for this new version of substitutions is not set, however.
Finally, I would like to inform you that the league regrouping of the two bottom league levels, which has taken place in all countries in the last two seasons, will only apply to selected countries from now on. The selected countries this season are:
Argentina, Bosnia and Herzegovina, Chile, Egypt, Mexico, Macedonia, Portugal, Turkey, Africa, Asia, North America, Scotland
These countries have been selected due to high percentage of inactive teams in the bottom two league levels. If you are in one of these leagues, you might be moved to another league or even be promoted to a higher league.
Happy holidays!
Penulis:

vlady
-
Penterjemah:

vlady
Kongsi di Facebook
Kongsi di Twitter
Share on Google+
Kongsi di MySpace