Moving forward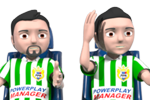 Hello friends,
I have plenty of good news for you. Many new features have been implemented recently and the pace of development has picked up. Almost all PRO features, which are available in hockey, are available now in soccer as well.
What's new:
- Team analysis (PRO feature)
- Team statistics (PRO feature)
- Loan
- Improved live broadcast
- Players - Statistics page
- League - Statistics page
- Detailed stats (in player profile)
What do we plan to do:
- introduce the market restriction (minimum experience to use the market will be set to 11 as it is in hockey) - this will be done tomorrow
- substitutions during the match

- suspensions for cards
- credit tournaments
We would also like to inform you that the maximum allowed time of inactivity has been changed from 7 to 21 days as it is in hockey. If you don't enter your team for more than 21 days, it will be revoked. Nothing changes for PRO pack owners. They still have 50 days of allowed inactivity.
The National Cup started on Friday in the bigger countries. Only a maximum of 4096 teams are taking part in this first season. More will be allowed in the future seasons.
That's all, thank you for reading and have a nice day!
Penulis:

vlady
-
Penterjemah:

vlady
Kongsi di Facebook
Kongsi di Twitter
Share on Google+
Kongsi di MySpace