Market madness and more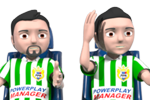 Hello friends,
After the historic day yesterday, we had some issues on our hands to solve today. One of the most serious ones was the market madness that was unleashed. Some managers have put a lot of players on the market and they would get very rich too soon in the game because of a large number of overpriced bids.
We decided to take some steps to limit this phenomenon. All players have been taken off the market and they have returned to their teams. Every manager will be allowed to send 1 player to the market until they reach 11 on the manager experience. Those who had all those players on the market should consider this solution a good one for them. The original plan was to make major compensations for overpriced transfers which would have cost them both players and money.
Also note that the market will be followed very closely by our gamemasters during the first weeks until the situation gets back to normal. They will use the option to compensate the overpriced transfers much more often in the beginning. Keep that in mind when sending players to the market.
In other news, the sponsorship money will be changed. The differences between the top and bottom leagues will be smaller. Also the money given to all teams at the same league level within the same country will be absolutely equal. These changes only apply to this first season.
Good news for our supporters. We plan to implement combined PRO packs for both hockey and football in the near future which will save you some credits. Those, who have bought PRO packs in football already (and they have one in hockey too), will get extra days for free. More details to come.
Have a nice day!
Penulis:

vlady
-
Penterjemah:

vlady
Kongsi di Facebook
Kongsi di Twitter
Share on Google+
Kongsi di MySpace