New countries with leagues and national team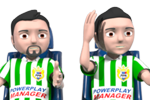 Hi friends,
we are excited to announce that we will open leagues in seven new countries next season. We are happy that the interest in PowerPlay Manager in these countries has grown enough to allow this. They are the following 7 countries:
Algeria, Australia, Azerbaijan, Egypt, India, Japan, Morocco
All of these countries are also getting their own national teams next season. They will be joined by Chinese Taipei, Indonesia and Malaysia who have had their own leagues since the start of the current season. You can already sign up for national team manager elections in these ten countries.
We have changed the election system a little bit and you can sign up for candidacy in your team profile. Then you must create a presentation to be displayed to the voters on the Elections page. This change was introduced to improve the first round of voting. Only those who have signed up for elections will be able to receive preferential votes during the season. Then the second round will take place during the first week of the season as usual. Until recently, you were able give your support to any manager in the first round of voting and the votes got spread out over many managers who didn't even consider running for this position.
What's also new is the fact that you can send preferential votes even during the final week of the season. So go check your country's candidates (if there are elections in your country) and make sure your candidate gets your vote and qualifies for the second round starting on Monday. You can cast your vote in the team profile of your chosen candidate. Only the top 10 candidates based on preferential votes go through to the second round.
We have improved the PRO feature called Automatic opponent search option to enable you to apply the same conditions for a week or even a month, not just single day. How does it work? Just click on a date in your calendar where you don't have any match scheduled and open the Automatic opponent search. At the bottom you can see a new option where you can choose to apply the same conditions on the following days as well. The settings will be saved and the system will find you suitable opponents for each empty date as soon as they are available.
Christmas discounts
We would like to remind you that the Christmas discounts expire in 9 days (December 22, 12.00 CET). If you buy a 12-month hockey+soccer PRO pack, you will save 160 credits. Activate or prolong your PRO packs here.
If you want to buy credits via wire transfer, don't leave it to the last moment, because you may not get the credits on time.
Have a nice day!
Penulis:

vlady
-
Penterjemah:

vlady
Kongsi di Facebook
Kongsi di Twitter
Share on Google+
Kongsi di MySpace