What's new in beta?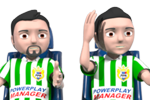 Hello friends,
I bring some brief information from the development of football. First of all, I should say that your team names and stadium names will be carried over into the full version. If you want to change these names you will have to be patient. These credit features are not functional at the moment and we don't know if we manage to make them before the full version starts.
Users who are registered in the United Kingdom have a choice whether they wish to play in England, Scotland, Wales or Northern Ireland. This choice will be enabled again during beta, so if you have chosen the wrong region, you will be able to change it for the full version. Once the full version starts, no more changes will be possible.
Now for the development.
Following features have been enabled:
- graphic representation of ball possession in match report
- logo and uniforms
- player salaries
- overall team rating
- attendance
- team news about upcoming and past matches
- energy decrease (should work from today)
- injuries
The following bugs have been fixed:
- nick appearing as public account
- wrong links to players in match report
- players with 0 attributes
- many others...
We plan to implement the following in the near future:
- staff market
- player chat
- revenues from matches
That's all for now. I will keep you posted about further developments.
Penulis:

vlady
-
Penterjemah:

vlady
Kongsi di Facebook
Kongsi di Twitter
Share on Google+
Kongsi di MySpace