New season coming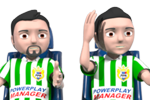 Hello everyone,
the long-awaited season 5 is almost upon us. Long-awaited because it will feature several notable differences. There will be the new matche engine, the national teams will be launched, the first SuperLeague Cup will be played and there will also be league regrouping and three new countries will get their own leagues.
Football will be turned off at around 7:00am CET on Monday, August 29 due to league regrouping and separation of new countries. It may take several hours until everything is ready for re-launch. Of course we will do our best to put the game back online as soon as possible. We would like to ask you for patience and understanding during the down-time.
The nightly calculation will also be moved to 7:00am CET so don't be alarmed when you don't get news about new season in the morning.
As we had announced earlier, there will be regrouping of the last two league levels in each country. First the regular promotions and relegations will take place. Then the teams from the lowest league level will be ordered according to their OTR and then they will be inserted into the empty spots in the league level above. If there are not enough empty slots, the teams that didn't make the cut, will remain in the bottom league level, but they will be grouped together in the smallest possible number of leagues. The empty leagues will then be locked until it is necessary to open them. It is also possible that there will not be enough teams to fill all the empty slots in the second lowest league level. In that case the teams in the second lowest league level will also be grouped together.
We are also glad to announce that we will open leagues in three new countries: Chinese Taipei, Indonesia and Malaysia. These countries will get their own leagues in season 5 and their own national teams in season 6.
Finally, here is a preview of the new tactics page. We have added some interactive pictures and options to change tactics at half-time based on the score. Click on the image below to enlarge it.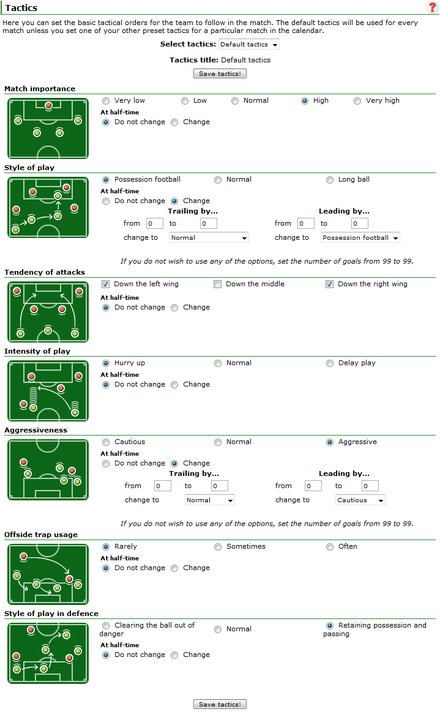 Penulis:

vlady
-
Penterjemah:

vlady
Kongsi di Facebook
Kongsi di Twitter
Share on Google+
Kongsi di MySpace