Substitutions are here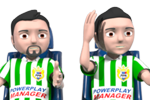 Hello friends,
As the title suggests, today we have implemented the substitutions. You can find them on the Line-up page. I strongly recommend reading the introduction text on the Substitutions page. They have been tested so hopefully there won't be any problems. If you detect some, please report them in our forums in the bug threads. So far you cannot set substitutions based on various conditions. This option will be added later.
Apart from this, we have added the options to delete the whole line-up and to remove a player from the line-up.
The development will continue and the next major option to be added, should be the credit tournaments. We are also working on the Man of the Match feature and the selection of the best 11 players of each match day (Team of the Day). These two features will influence the popularity of the players.
I should also announce that we are preparing a completely new design of the welcome pages. This change will not affect the environment of the game itself.
As I have mentioned in the hockey news yesterday, we are looking for translators into the following languages: Hungarian, Norwegian, Spanish (Chile), Icelandic, Lithuanian, Macedonian, Turkish, Greek, Belarusian, Hebrew, Arabic and Chinese. Please note that we are only looking for native speakers. The source language is English. If you are interested please contact me at
vladimir.danis@powerplaymanager.com
.
Finally the last warning for users in Czech Republic, Poland and Hungary about the change of the account number for wire transfer. Some of you are still sending money to the old account number. Unfortunately, we cannot accept such payments any more. You can find the new account number in the PRO zone.
That's all, have a nice day!
Penulis:

vlady
-
Penterjemah:

vlady
Kongsi di Facebook
Kongsi di Twitter
Share on Google+
Kongsi di MySpace