Restart and transition to full version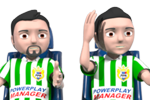 Hello friends,
I have good news for you. Monday, May 31, 2010 is the official start of the full version of football. The football game will go off line at around 8 am CET and we will need several hours to prepare everything for the launch of the full version. We cannot predict how much time this will take, so please be patient.
There are several important announcements to be made before we do this. First of all, the allowed period of inactivity during the first few weeks of the full version will be set to 7 days. It means, that to retain your team, you will have to log in at least once a week. This is to prevent having inactive managers in the higher leagues. For PRO pack users in football, this period will be 50 days. Please note, that PRO pack in hockey, does not apply for football and vice versa.
The restart also means that your free PRO packs from this beta version will no longer be available. PRO packs in full version will have to be activated for credits.
Your logos and team uniforms will NOT be saved. If you want to have them in the full version, please save them to your hard drive and re-upload them after the restart.
Your manager experience in football will go back to zero, but for the first two weeks you will be able to use the market even if you don't have the required experience.
Season 1 in the full version will start a week after the start of the full version. That is Monday, June 7. During the first week, you will only be able to play friendlies.

Here are some of the recently implemented features:
- match engine was tuned up again
- training camp
- live broadcast
- the option to create and use multiple lineups and tactics
- planning
- PRO pack pages League injuries, League players on the market, League staff on the market, League transfers
Finally an announcement to users in the smaller countries on PPM. You have the last chance to get enough managers to have your own league. If you can gain 20 football teams in your country by Monday, we will create a league for your country.
Here is a list of countries for which this applies:
Israel, Greece, Ireland, Moldova, Scotland, Macedonia, Montenegro, Luxembourg, Iceland, Northern Ireland, Albania, Wales, Cuba, Costa Rica, Honduras, Panama, Dominican Republic, Paraguay, Ecuador, Egypt, Algeria, Morocco, Angola, Saudi Arabia, China, Kazakhstan, Azerbaijan, Malaysia, Indonesia, Australia, New Zealand.
Have a nice day!
Penulis:

vlady
-
Penterjemah:

vlady
Kongsi di Facebook
Kongsi di Twitter
Share on Google+
Kongsi di MySpace