News and plans for the near future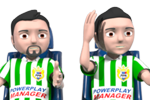 Hello friends,

Here are the latest news from the development team. The development of football has been slowed by our recent server problems, which seem to have been put to rest. The new server is up and running and we have some extra capacity.
Currently we are working on the live broadcast. Almost 300 different plays have been created and are being translated all the time. The first simplified version should go on-line fairly soon. We are also working on the National Cup, even though this will not be available during beta.
In the meantime, we have improved the design of team news and fixed a number of bugs. Most importantly, we have been tuning up the match engine to limit the effectiveness of weird formations. A significant progress has been made in this area.
Many of you are asking when is the full version coming out. Barring any major complications, the full version could be launched by the end of May. Once the full version is launched, we will continue developing football along the way and we will also return to hockey and do some long intended improvements there. The ongoing development of these two sports should be our main focus during the summer. Only then shall we move on to the third sport.
Finally, here is a list of some new features implemented since the last newsflash:
- team strength indicators (for more info see the guide)
- the ability to set captain, alternate captain, free kick takers, penalty kick takers and corner kick takers
- application of the above mentioned settings in the actual matches
- staff member bid history
- player chat (for players on the market)
Have a nice day!
Penulis:

vlady
-
Penterjemah:

vlady
Kongsi di Facebook
Kongsi di Twitter
Share on Google+
Kongsi di MySpace