Plenty of new features coming up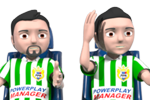 Hi friends,
the 13th season in soccer is coming to an end and we have plenty of new features and changes prepared for the next season. The first change is actually already implemented and it concerns the general sponsorhip offers.
If you play hockey or handball then you already know that you will get 3 different offers every day. One regular offer with fixed weekly payments, one offer that will give you extra bonuses for every win in a league, and one offer with bonuses for achieving a target position at certain checkpoints during the season. You can read everything about these sponsor offers in the guide.
Moreover, you can now view sponsor offers, media sponsor offers and VIP lounge offers in advance for credits. This change was first implemented in handball, now it comes to you in soccer as well.
As we had announced earlier, there will be some changes from the next season:
draft in 2 week intervals alternating with regular academy pulls
influence of match importance in league matches on future attendance at home league matches
influence of match importance on chemistry and experience gains of players
it will not be possible to have more than 8 staff members of the same kind (if you have more you can keep them, but you cannot acquire new ones)
general sponsors, media sponsors and VIP lounge leaseholders will no longer take into account performance of the team in international cups (but the bonus for qualifying for international cups will remain)
we will add team strength indicator to the match report
There will also be league regrouping at the end of this season to eliminate teams without managers from the bottom two leagues in the selected countries. The league regrouping will take place in most countries EXCEPT the following ones:
Africa, Australia, Canada, China, Czech Republic, Denmark, England, Europe, France, Germany, Hungary, Iran, Japan, Mexico, Moldova, Oceania, Paraguay, Portugal, Saudi Arabia, Scotland, Serbia, Spain, Ukraine, USA, Venezuela
Good luck to everyone in the new season!
Penulis:

vlady
-
Penterjemah:

vlady
Kongsi di Facebook
Kongsi di Twitter
Share on Google+
Kongsi di MySpace