Winners announced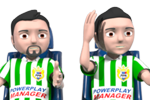 Hi friends,
the contest that we announced last week has ended yesterday morning and I bring you the results. The tournament with most registered teams at the deadline was
Česko-Slovenský SuperPohár
. The tournament had 59 registered teams at the deadline and received a prize pool bonus of 177 credits.
The contest for the highest donation from the founder has been won by two tournaments. Both have had the maximum donation of 1000 credits and therefore they share the prize between them. Both
The best cup of the world
and
Mash's Fussball DACH CUP
have been given a bonus of 500 credits into their prize pool. Congratulations to the winners.
If you are from Germany, Austria or Switzerland you can still sign up for Mash's Fussball DACH CUP. But everybody can create their own tournament or sign up for one of the other available tournaments. Let the games begin!
Now for other news. We have implemented the Team of the Day feature. Every match day in the league, the engine selects the best goalie, 4 defenders, 4 midfielders and 2 forwards based on their performance on that day. We are currently working on Team of the Season which will sum up all the Team of the Day nominations. However, this feature is only available from match day 11.
We have also improved the PRO feature regarding player types. You can now set 7 player types (goalkeeper, side and centre defender, side and centre midfielder and side and centre forward) and each type has different colour coding of his attributes on the Practice page and in the player profile. The primary attribute is bold, the secondary attributes with major influence are red, the secondary attributes with medium influence are blue and the ones with small influence are green. This should prove very helpful when training your players.

That's all for now. Enjoy the new features and see you in the tournaments!
Penulis:

vlady
-
Penterjemah:

vlady
Kongsi di Facebook
Kongsi di Twitter
Share on Google+
Kongsi di MySpace