Take part in collecting fever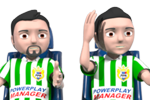 Hi friends,
today we have launched a feature that will add a whole new dimension to the whole pennant collecting thing. It is called the World collection. What exactly does that mean? Your challenge is to collect at least 1 pennant from every league level of every country (or continent) on PPM. In total that is 180 pennants. If you accoplish this, we will give you 50 credits and a special award into your profile.
The good part is, that the pennants that you have already collected count into the collection already. So if you have been collecting, you already have a jump start. Only teams that have their own club pennant may see and finalize their collection.
Besides that, we have introduced a boat load of other improvements regarding pennants as well. Here is a list of what has been done:
You can set the option not to give a pennant to a team without a pennant (on the page where you create pennants)

Pennants were added to the match report and Next match page

You can click on the match result in the pennant gallery to see the match report from that match
You can select the option to search only for an opponent with a pennant in the automatic friendly match scheduler
You can see whether a team has a pennant on the Challenges page
Added information about the number of teams with a pennant in League info
Added number of visitors into Collector's gallery
League news entry when someone creates a pennant
Team news when your team collects a pennant
Ranking of top collectors and top pennant creators
Small pennant icons next to teams with a pennant on various pages
You can add pennants to "Most precious" category for 1 credit and enter a note for these pennants
As you can see, it pays off to have your own pennant. Not only will it be easier for you to collect pennants, but you will also be able to win some credits and an award for your profile.
And that's not all for today. As I have promised, we have changed the way rating is calculated in match report. The change is effective as of today. If you played early in the morning (CET) you still have the old ratings though.
The new ratings are calculated in the following way. It is a combination of player's attributes, energy, chemistry and experience and his suitability for the position in which he started the match. It does not reflect the player's perfomance in the match. The rating is meant to help you train the players properly and to determine which positions they are most suitable for.
Last, but not least, a reminder that you can still get up to 10 credits per one referral. Just read the previous news for more details.
Have fun!
Penulis:

vlady
-
Penterjemah:

vlady
Kongsi di Facebook
Kongsi di Twitter
Share on Google+
Kongsi di MySpace