Brand new server for Ski Jump Mania 3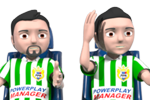 Hello players,
we're excited to announce that Ski Jump Mania 3 has launched a new server with several improvements. The new server promises better bonuses, even more rewards and various bug fixes, providing you with an even more enjoyable experience.
Tired of waiting for energy and jumps to recharge? Solved! On the new server, recharging is 50% faster and the limits have also been increased to match, so you can play even more without interrupting your game.
But if you really hate waiting, we have even more great news for you. No more price increase after every usage of Energy Drink or Wild Card. Use them as many times as you like, always for the same price.
And last but not least, we've also improved the overall gameplay experience with various bug fixes to make the game more enjoyable and fair to everyone. So if you're eager to fly and take your jumping skills to new heights, download the new Ski Jump Mania 3 app today and become the ultimate ski jumping champion.
>>> Play on the web <<< (including welcome offer)
See you in the game!
作者:

vlady
-
翻譯者:

vlady
在Facebook分享
在Twitter分享
在MySpace分享