More engine improvements planned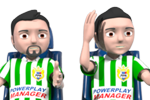 Hello friends,
at the beginning of this season we have launched a new and improved match engine in football. The results have become more realistic, we added new tactical options, improved the substitutions, we gave you new stats and more info in the match report to name a just a few of the improvements implemented for this season.
Season 6 is several weeks away and we are glad to report that we are already working on the next set of improvements. The changes are mostly those which were planned for this season, but were not completed on time. Some other changes include small tune-ups and a few new features.
Probably the most significant will be the addition of assists. The last player to pass the ball to the goal scorer will be awarded with an assist and the assists will be added as a new statistical category for the players. The assists will give you a better idea of how your players are performing.
From the start of this season you have the option to change your tactics at half-time according to the score. Some of you have pointed out that you would also like to see what kind of an impact these changes have on the team's performance. From the next season we will be showing the first half stats next to total stats in the match report so that you can compare first and second half performance.
The tune-ups will include reduction of red and yellow cards awarded. The current global average is slightly higher than it should be. This also means fewer suspensions.
Another important change will be the fact that the ratings and performances of poorly trained players will go down significantly. The current system allows a little too much variety and players who only practice their primary attribute (or don't practice it enough) are still capable of performing well. I can assure you that there is no need to worry if you train your players reasonably. A certain variation in training will still be allowed.
Now back to current affairs. We have added information about the reason of suspension into team news in case your player is suspended. This is to avoid confusion when the same player gets two suspensions at the same time (one for for yellow cards and the other for a red card).
Since the goalkeepers now have their stats, we will implement prize money for the best goalkeepers according to number of clean sheets in the league. You can expect this by the end of the league season.
Soon you will be able to create custom gloves for your goalkeepers. This new credit feature is currently in testing phase.
That's all for today, have a nice weekend!